Processing...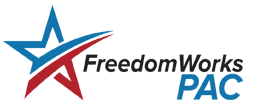 secure

HELP ELECT TRUE DEFENDERS of FREEDOM
This is your Republic. Our job is to make sure it represents you.
As a donor to FreedomWorks PAC you can rest assured that your donation is well-spent supporting principled pro-freedom candidates you can be proud of.
Per federal law, the maximum allowable donation to FreedomWorks PAC is $5,000 per calendar year.
Forgot your password?
Enter your email address below and we will send you a link to reset your password.
You should have received an email with a link to reset your password. Please enter a new password and confirm it below.